Leasing a solar panel system in South Jersey will net you short term benefits but you will lose out on the long term beneficial aspect of owning a solar system. We at Seapoint Solar lease our systems out with a Sunnova Power Purchase Agreement (PPA), this agreement allows you to save 15%-30% on your electricity costs for years to come without the risks and complications of actually owning the solar system. the 15%-30% of savings roughly estimates to $40 saved a month which can be huge depending on what you were paying for your electricity bill and how large of a system you are leasing. Going with a PPA from Sunnova means you can possibly go solar with $0 down, you'll need to speak with a solar installer to confirm this.
After the Sunnova PPA lease is up you'll have several options on what to do next, the first being re-up your lease. Re-upping your lease will be the most cost efficient way to continue using solar power as you will continue to pay the lease price you've been paying. The second option is buying the solar system at a fair market price, this is cheaper than buying a new system as its already installed and you've already payed a portion of it. The third option is to just get rid of the system and go back to grid electricity, which could be cheaper short term but will end up hurting your wallet in the long run.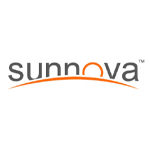 You will have to meet certain requirements when trying to start a PPA lease with Sunnova. The requirements mean that you will have to be located in a specific state, have an electricity bill of over $100 a month, live or own your home for more than 2 years, must have a good or excellent FICO credit score of 650 or more, and of course you'll have to want to go solar.
The states that offer the PPA lease are as follows:
Our team at Seapoint Solar is Enphase certified meaning, each member has the certification to install and set up solar energy systems for your home. We are able to install and lease out things such as solar panels, backup batteries, and many more clean energy items.
Each solar installation comes with our warranty:
25 year warranty parts & labor
30 year warranty on all roof penetrations